Resin Crisis Update: What is Going on with Our Country's Most Popular Polymers
Last month, in our article "How to Get Your Injection Molded Parts On-Time and Keep Your Production Lines Running," we addressed the lead times and production concerns around the resin industries and what Ferriot is doing to help our customers weather the storm. We will continue to update you on this evolving issue.
Plastics processors all over the country are seeing severe resin shortages and staggering price increases. Every indication is that this issue will continue through June. What caused this? What resins have been impacted? How will this impact the resin market in the coming months? What should OEMs with plastic components in their products be doing now?
What Happened?
The root cause of this crisis is the COVID-19 pandemic (see diagram). 2020 and the beginning of 2021 have been a battle, especially for Texas and Louisiana resin manufacturers. Like many, resin manufacturers experienced some shift in product due to COVID-19 disruptions. To abide by COVID-19 rules and regulations, many plants ran into staffing issues as production facilities, shipping ports and supply chain logistics all saw a slow down when quarantined production shifts removed days of labor, as well as short staffing because of symptomatic employees. As a result, many thermoplastic resins were already in tight supply. Then, in the middle of the COVID-19 pandemic, the south saw one of the worst hurricane seasons in years causing increased delay, as well as damage. In February, the United States was hit with Winter Storm Uri resulting in power outages across the country.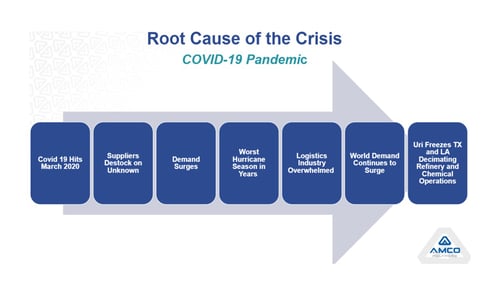 Timeline of issues impacting resin supply (Source: MAPP and AMCO Polymers)
Current Market Status
Now, several weeks later, the Louisiana and Texas plants are still recovering from the national winter/ice storm that caused so many shut-downs. Subsequently, there is more demand than supply for thermoplastics. According to Plastics Today, as of last week, at least 80% of domestic resin producers are in force majeure. Polyethylene, Acrylonitrile Butadiene Styrene (ABS), Polyvinyl Chloride (PVC), Acetal, Polycarbonate and Nylon being several major polymers that have been affected by this crisis.

Price increase announcements in Feb/Mar 2021 (Source: MAP and AMCO Polymers) Products in RED have supply on Force Majeure.

What does this mean for us?
Why does that matter to you and the production of your injection molded parts? Well, Polyethylene is the most widely used plastic in the world, 85% of U.S supply being created in Texas. Without Texas plants able to produce and ship these essential plastics, we are going to start seeing significant plastic shortages, and potentially empty shelves at the store, in healthcare, automotive, construction, etc. Remember how the toilet paper shortage of 2020 resulted from the COVID-19 shutdown? It resulted in increased high demand. Many plastics consumers are going to buy out supplies as we continue to see a decrease in product. What does this mean? Higher prices, ongoing allocations, longer lead times, etc. According to Plastics Today, Polyproplene resin prices alone rose an average of 34 cents per pound in February and are expected to continue going up through March as a result of the strong global demand and short supply.

But since the storm is over, we should be moving forward, right? Not exactly. As recent as last week, Texas was still working to restore power to those who still don't have it. However, once power is fully restored, plants must then evaluate the effects that this storm had – product allocation, order status, lead times, transportation, etc. Most plants that were affected by freeze related shutdowns did not anticipate the shutdown having this high of an impact. As a result, most plants were unable to properly prepare production and machinery for what resulted in the shutdown.

What should we do?
As we continue through the resin crisis, Ferriot recommends working with your current supplier to confirm allocations, as well as future supply. The resin crisis will continue to get worse before it gets better. We are anticipating this crisis lasting through June, if not longer. Our engineering services team can work with you and your suppliers to help identify alternative resins that you can use while we navigate these strange times. Learn about the pros and cons of each different resin and see if an approach to pivot your resin selection in the short team is something that your business should consider. Then, be ready to give long-term commitments for supply today, knowing that this crisis is set to continue for months to come, and low-priced resins will likely experience a pricing increase as this resin shortage continues to be a battle we face.

How are we going to avoid this in the future?
As we work to get past this crisis, an important thing to remember moving forward is to have a committed branded distributor. Talking with your distributor about your forecast for the year and volume requirements will not only help them plan and prepare for your demand, but it will also keep your company top of mind if a crisis does occur. Right now, in the resin crisis, companies are submitting orders to manufacturers and are getting terms such as "30-week lead times" thrown at them. When you have a committed relationship and requirement already in place with a manufacturer, your forecasted supply is already being factored in, resulting in quicker product response times. Having a committed relationship will also allow you to have some "buffer stock," on hand when these types of delays occur again. Lastly, remember, resin crisis or not, the more lead time that you can provide your supplier, the less you will have to worry about hiccups delaying your products again!

Conclusion
As resin plants continue to regain power and recover from the latest setback, companies continue experiencing productivity issues due to labor challenges of COVID-19 and supply of both domestic and imported resins continues to fall short and worsen, the resin crisis remains an issue across the country. Consult Ferriot's engineering services team and your branded distributor immediately to develop a plan on how your company can combat this setback. As a reminder, the best way to address the current resin crisis is to be proactive by taking these steps now:
Specify alternate resins and get them qualified.

Provide an extended forecast for production.

Consider making long term commitments on orders and resins.

Provide ample lead time on orders.

Prepare for cost increases.
Resin Pricing Update: May 12, 2021
The resin market continues to face ongoing delays and shortages as a result of the Covid-19 pandemic, a record hurricane season, and winter storm, Uri. Many resin lead times are extremely long. The team at Ferriot continues to monitor the price fluctuation of our country's most popular polymers.

- PGP settled down $.13/Lb. for April to $.57/Lb. Throughout the month of May, we are predicting that the pricing is going to decrease.
- Given the supply/demand imbalance, the market tightness remains for Branded Polypropylene. As of April 30th, seven out of 10 N.A. PP producers remain on Force Majeure.
- Pricing for Polystyrene continues to increase, and we predict continued price increased throughout May.
- ABS pricing continues to rise as well with a $0.61/Lb. price increase on general-purpose ABS since September 2020 and $0.32/Lb. on enhanced specialties.
- With three of the four major North American PVC resin production facilities still operating under Force Majeure, multiple PVC resin producers announced a $0.07/Lb. increase for March, with two producers announcing an additional $0.07/Lb. for April, with likely another on the way in May.
- PC is another that has seen shortages due to the series of many events that have put many manufacturers into Force Majeure.
- As for Nylon, all supply continues to be tight as production works to build back up.
Popular brands of blended resins still have long lead times as well:
-SABIC PC/ABS blends, Cycoloy and Cycolac still have a 19 week lead time.
-Covestro's Makrolon (PC) and Bayblend (PC/ABS) still have a 13 week lead time.
In addition to the increase in individual resins, companies and locations across the world are still seeing the impact.
- Since September of 2020, a total of $0.62/Lb. of price increases have been announced by ChiMei. Lead times at ChiMei continue to stretch 12-14 weeks as the manufacturer sells out of all resins
- The cost of Taiwan to Chicago increased to $1,500
- While we continue navigating these shortages, excessive port delays and intermodal freight could add 3-5 weeks for delivery for any resin


Demand is expected to continue to be strong through the summer months with raw material costs increasing. As companies work to bounce back, they are also tasked with the ongoing battle of long lead times that keep them under Force Majeure. Throughout these months, it is important that we are planning ahead when we can, as well as substituting preferred resins for alternatives when available.
Learn more: