Automating Injection Molding Processes Improves Efficiency Part 1
3D Printing End-of-Arm Tooling Designs for Custom Injection Molded Parts
Ferriot works hard to provide high-quality custom injection molded parts while remaining cost-effective and delivering on time. That's no small task, and one of the ways we do this is by utilizing many class-leading technologies in our custom injection molding operations. In previous articles, we've discussed everything from robotic arms and inspection scanners to mold flow analysis.
In my latest interview, I spent some time with Jeff Hodnick, our Automation Engineer, to learn more about his role at Ferriot. Jeff's been with us for the past three years, putting his nearly decade-long engineering experience to work on behalf of our customers by integrating new automation technologies to streamline processes and improve efficiencies.
Liz: Tell me about the different automation technologies that you get to use—like 3D printing and cobots. How is Ferriot using them?
Jeff: A large portion of what we do with 3D printing is fixturing. Primarily we make a lot of nests and related items, like how many companies fabricate them with resin. At Ferriot, we will design the nests in CAD using programs like SolidWorks and then do a 3D printout instead. So, we can use nylon and more robust stuff like carbon fiber-infused materials to get the same strength with less weight. We're tinkering more with end-of-arm (EOAT) stuff and 3D printing, but not too heavily; we've only made Gripper fingers and brackets so far. We saw some success with it, but the use case is primarily for nests and fixturing.
Liz: How does the end-of-arm tooling work as it relates to the 3D printer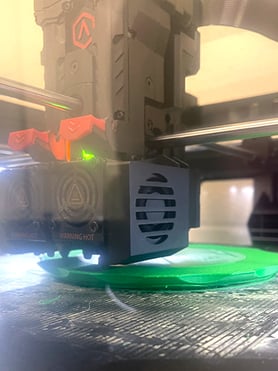 Jeff: Right now, we use EOATs, the tools that go on the end of robot arms, to pick parts out of the injection molding presses. In some cases, some parts are hard to grab, and you must go at it from a specific angle, and there's no flat surface, but you still need to be able to grab the part out of the press. We can custom design whatever gripper type we could ever need, and 3D print it Then we're able to go in and grab parts that way. We buy grippers without any actual fingers on them, then design and print what we need for the specific application.
We would use them primarily for stuff like that. Or if it's a small, confined space, we must use a really small gripper, but the part is wide for that space, then we will use them in that regard too. It's kind of like boosters to go out wider to grab the part.
The significant advantage of being able to 3D print for EOA tooling is the customization and flexibility that it offers. It eliminates or at least reduces any restrictions we may have had before because of space issues. If we can mold the custom part in our machine, we can get it out with our custom designed EOA tools.
Liz: What are some of the limitations you run into with off-the-shelf EOA tooling?
Jeff: The limitations are size-related because they have standardized stuff that works for probably 75% to 85% of typical applications. But as soon as you get into the more custom molded part designs, that's when the 3D printing EOAT capability really shines. And Ferriot specializes in custom injection molded parts, so it's important to us.
Liz: Most of us are familiar with the grippers and suction cups at the end of a robotic arm. Can you give me an example of a custom EOAT that you might need to create?
Jeff: Yes, the suction cups and grippers are your standard go-to stuff. And they work for 90-95% of things. It's just that small 5-10% of the stuff that has no flat surface where the standard EOA stuff won't do the job. I would have to say that the majority of the 5-10% are angled parts—where the pieces come out (of the press) at an angle, and there's no flat surface, so you can't use suction cups, you can't use standard grippers, or the gripper might mar the part's visible surface—different situations like that. So, being able to bring custom EOA tooling designs to life, that's where 3D printing can be a huge help.
Liz: Besides giving Ferriot the flexibility to create the customized parts that our customers might need, do you use 3D printing for anything else?
Jeff: In addition to the custom EOAT tooling, we also use the 3D printers for our quality department, making tool holders and organizers, and stuff like that. Because it's quick, because they have a lot of specialized tools that are outside the norm shape wise
Liz: Rapid prototyping?
Jeff: Kind of, but only internally, more like rapid deployment as part of our process. The quality team has a lot of specialized tools and stuff that they use for specific customer projects. For us to be able to make a container for them to store it in, and do so quickly, that's ideal. You're looking at five times the cost if you were to have one of those things custom-made for it. That's a significant cost-saving measure for Ferriot, and it's customers.
In the next installment, I will talk with Jeff about how Ferriot combines our cobots and vision system technologies to further automate our custom injection molding processes.
Learn more:
How do Mold Flow Analysis and Tool Design impact injection molded part quality? [Part 1]
New Scanner Adds Color and Clarity to Injection Mold Inspection Data
Cobots Enable More Efficient Manufacturing in Injection Molding